The PHS Little Theatre Quest!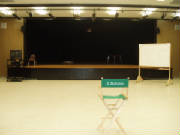 As I think anyone who has visited the PHS Little Theatre lately can tell you, we are in desperate need of a new theatre! Our drama department is growing at an amazing rate, and we're starting to grow out of our theatre.
There are plans already drawn up for a new theatre. What we need however is 2 million dollars to get it off the ground. If you know someone or are someone who is interested in helping this worthy cause, please contact the drama department. Every little bit helps. We have an amazing program, and I believe we should have an amazing facility to go along with it!
Thank you.
---Ms. Jennifer Schmelzer